Who (like us!) is old enough to remember the gorgeous, red Triumph Roadster driven by John Nettles in the TV series "Bergerac" during the 1980s? In fact, Nettles actually drove not 1 but 2 different Roadsters during the series – with the same number plate used on both cars – J 1610! Not a lot of people know that!
So, the team at our Plymouth-based car restoration workshop were delighted and also felt quite privileged to be asked to carry out significant restoration work and a colour change to a similar 1947 Triumph Roadster. It was something of a different project for us.
About the Triumph Roadster

This roadster was manufactured by Britain's "Standard Motor Company" between 1946 and 1949. The 1800 Roadster (1946-48) was designed towards the end of the Second World War – as the MD of "Standard Motor Company", Sir John Black, wanted to design a new car to rival Jaguar's sports cars.
Our Classic Sports Car Restoration Project in Plymouth
This vintage sports car was presented to us with steering issues, as well as rot to the ash timber frame.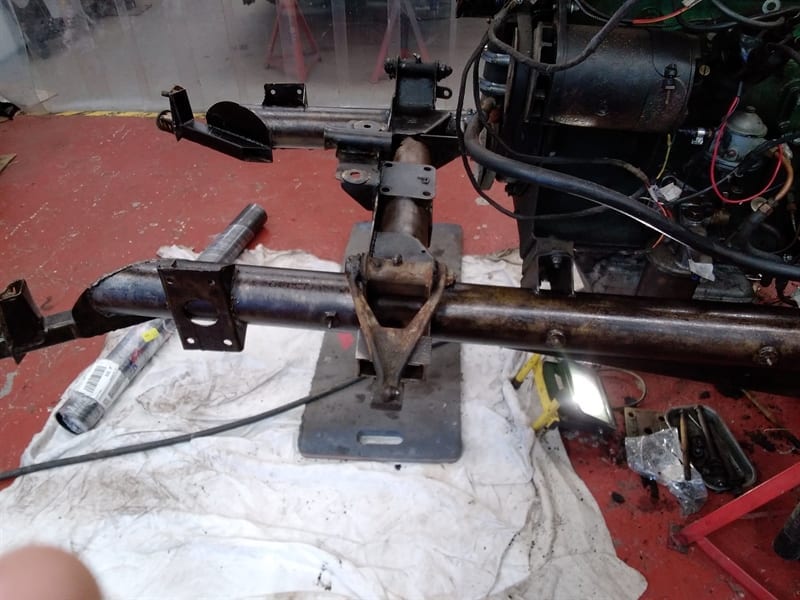 Stripping Down, Storage & Preparation
Firstly, we started by stripping the car down to get access to the areas in need of repair. We carried out an electrical test and started removing items and carefully labelling them for storage – making notes of any items in need of replacement.
Roadster Vehicle Repairs
We needed to weld a new tubular cross member into the chassis to replace the old fractured one.
New ash timber was sourced to shape and graft into the timber frame.
We carried out extensive work to the body to give it the necessary increased strength, and also to achieve the correct door alignment.
Triumph Roadster Respray & Colour Change
Our customer then decided to have a colour change to maroon – very much like the one driven by John Nettles, as mentioned above. Click here for more information on our high quality classic car respray service.
We do hope that you enjoyed an insight into this 1947 Triumph Roadster classic car restoration project. To find out more about our classic car restoration services, call us on 01752 346544 or visit our contact page to get in touch. Our friendly and knowledgeable team will be able to get you back on the right track with your car restoration.
For lots more photos and more information about this project, please visit our projects page here.